A table has been booked at the Bargeman's Rest in Newport for Friday the 20th of December at 7-7:30 in the evening!
We are able to order from the regular Bar menu and I'm told there is live music on later in the evening which should make for a nice relaxed evening!
Numbers are limited so if you would like to come please can you let us know so I can keep track of how many spaces we have.
Alternatively If you just want to come for a drink later in the evening I'm sure we'll all still be there!
Please let me know if you want to come either by emailing us on membership@iowcc.co.uk or by catching me (Toby) at the weekend Cheers!
ROUND 14
BAE Systems Car Park
09-11-2013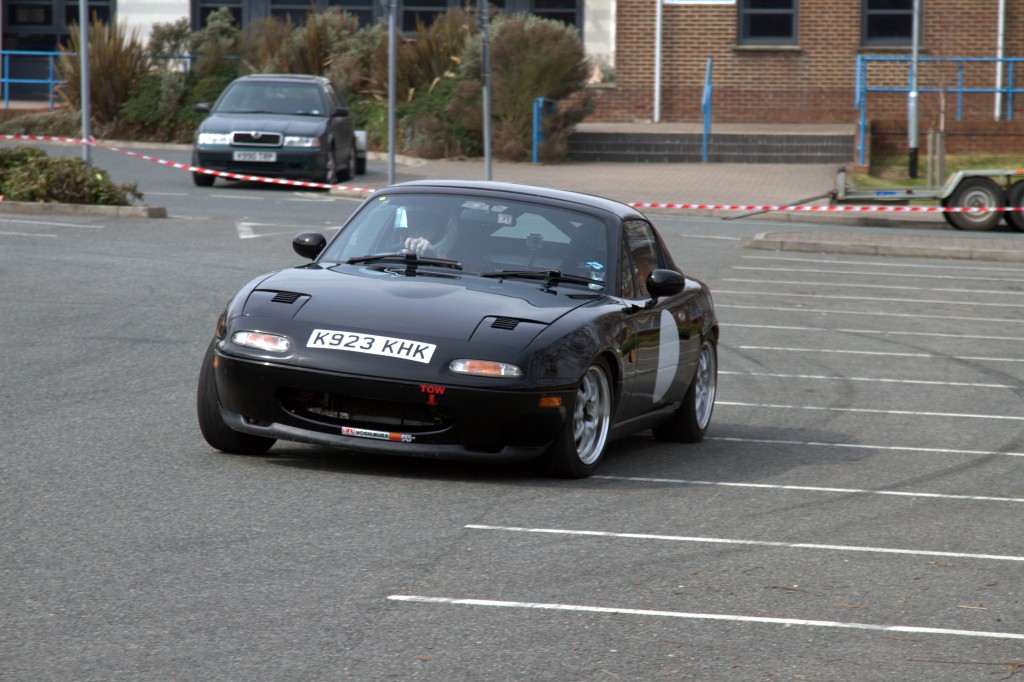 The latest round of the Isle of Wight Car Club championship was held on Saturday at the BAE Systems car park. It was a very wet and cold day but with only one more round after this one to decide the drivers and class championship titles, the competition was getting intense as any mistakes today would put more pressure on the drivers going into the final round.
RUN 1 .. First to set the pace was Andy Williams with a time of  54.29 sec, closely followed by Dave Dutch on a 54.32 sec, then Toby Allen on 54.51 sec, then Dave Goodwin on 54.81 sec , James Robbins on 55.27 sec , John Dutch on 56.07 sec .
RUN 2 ..  Saw many more drivers picking up the pace and as a result the leader boards was changing. This time Dave Dutch put in a time of 53.33 sec and then James Robbins only on a 54.01 sec , then Dave Goodwin on 55.32 sec , then Chris Greenen and Steve Stotesbury on a 56.16 sec and then Andy Williams on 56.62 sec .
RUN 3 .. saw Toby Allen setting a new pace of 51.87 Sec for all others to follow, Steve Wells gave chase with a 52.45 sec then John Dutch on 52.83 sec , Dave Dutch on 52.94 sec , Dave Goodwin on 53.06 sec , Dean Long on 53.19 sec ..
RUN 4 .. Saw Toby Allen set a time of 51.68 sec, Hot on his heels was Dave Goodwin on a 51.71 sec then Dan Morgan on 51.89 sec , Steve Wells on 51.89 sec , Adam Greenen on 52.05 sec, Chris Greenen on 52.82 sec ..
RUN 5 .. Once again saw Toby Allen set a target time of 50.64 sec for the others to reach, Dave Dutch got close on a 51.60 sec with Steve Wells hard on their heels with a 52.00 sec , then Daniel Kozakewycz on 52.20 sec , Andy Williams on 52.62 sec , Dean Long on 53.33 sec .
It was a very close competition for all the top drivers. But Toby Allen managed a super time of 50.64 sec in his 5th run that was enough to give him the overall win.
Congratulations to Toby on a great drive and his win
OVERALL POSITION
1st  Toby Allen on 50.64 sec
2nd  Dave Dutch on 51.60 sec
3rd  Dave Goodwin on 51.71 sec
4th Dan Morgan on 51.89 sec
5th  Steve Wells on 51.98 sec
6th Adam Greenen on 52.05 sec
Fastest LADIES of the Day
1st Vicky Cox
2nd  Linda Burt
3rd  Jill Williams
4th  Pam Moore
class 1
1st  Darren Cole
class  2
1st  Daniel Kozakewycz
2nd  Dean Long
3rd  Phil Rudd
4th  Daryl Turner
5th  Tony Long
class 3
1st  Dave Dutch
2nd  Dave Goodwin
3rd  Adam Greenen
4th  Chris Greenen
5th  Kevin Richardson
class 4
1st  Toby Allen
2nd  James Robbins
3rd  Seve Stotesbury
4th  Oliver Chatham
5th  David Smithies
class 5
1st  Dan Morgan
2nd  Steve Wells
3rd  Andy Williams
4th  John Dutch
5th  Chris Wilson
Isle of Wight Car Club
ROUND 15  ( SS )
IOW COLLEGE
10/11/2013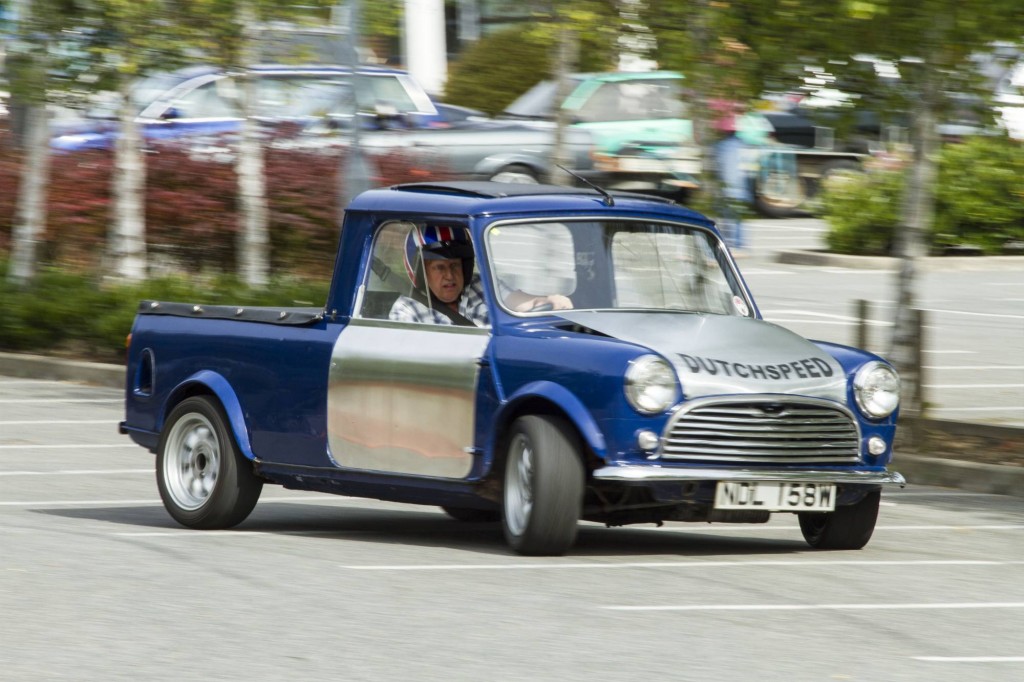 Dave Dutch Takes his fifth overall round win
of the Sealed Surface championship and retains the SS Championship Title
Round 15 was the final round of the sealed surface championship. This saw many drivers closely following their position on the leader board as today would decide the overall championship and all the class championships titles. Also only having four runs this time would put more pressure on the drivers to get their best run times in early.
With the weather on our side, the battle commenced and first to set the pace in
RUN 1 .. Was John Dutch then Toby Allan only one hundredths of a second behind, then Adam Greenen and Ricky Sheppard.
RUN 2 .. Saw Dave Dutch set a new FTD, over four seconds ahead of his brother John's time, but now Dan Morgan wanted part of the action and he was followed closely by Steve Wells, then Ricky Sheppard, then Kevin Richardson.
RUN 3 .. Saw Dan Morgan set a new FTD followed closely by Dave Dutch, then Steve Wells, then Toby Allen and then Ricky Sheppard, Dave Goodwin, John Dutch.
RUN 4 .. The final chance to take the FTD and it was once again Dave Dutch to set the new pace, Toby Allen chased hard but it was not enough, Toby was being pushed hard by Neil Glasbey and he was by John Dutch and Steve Glasbey, then Steve Wells.
Apart from the overall battle there were also many class battles going on…
Congratulations to Dave on a great drive and his win
OVERALL POSITION
1st  Dave Dutch on 58.54 sec
2nd  Dan Morgan on 58.95 sec
3rd  Toby Allen on 59.24 sec
4th Neil Glasbey on 59.62 sec
5th  Steve Wells on 60.36 sec
6th John Dutch on 60.44 sec
Fastest LADIES of the Day
1st Vicky Cox
2nd  Jill Williams
3rd  Linda Burt
4th  Pam Moore
class 1
1st  Darren Cole
class  2
1st  Dean Long
2nd  Daniel Kozakewycz
3rd  Daryl Turner
4th  Phil Rudd
5th  Tony Long
6th  Dave Rose
class 3
1st  Dave Dutch
2nd  Dave Goodwin
3rd  Kevin Richardson
4th  Adam Greenen
5th  Dan Howell
class 4
1st  Toby Allen
2nd  Neil Glasbey
3rd  Steve Glasbey
4th  Ricky Sheppard
5th  Steve Stotesbury
class 5
1st  Dan Morgan
2nd  Steve Wells
3rd  John Dutch
4th  Paul Wills
5th  Martyn Cutler
Write-up by John Dutch …   Picture by Allan Marsh