DUTCH BROTHERS
RETAIN OVERALL and CLASS
CHAMPIONSHIP TITLES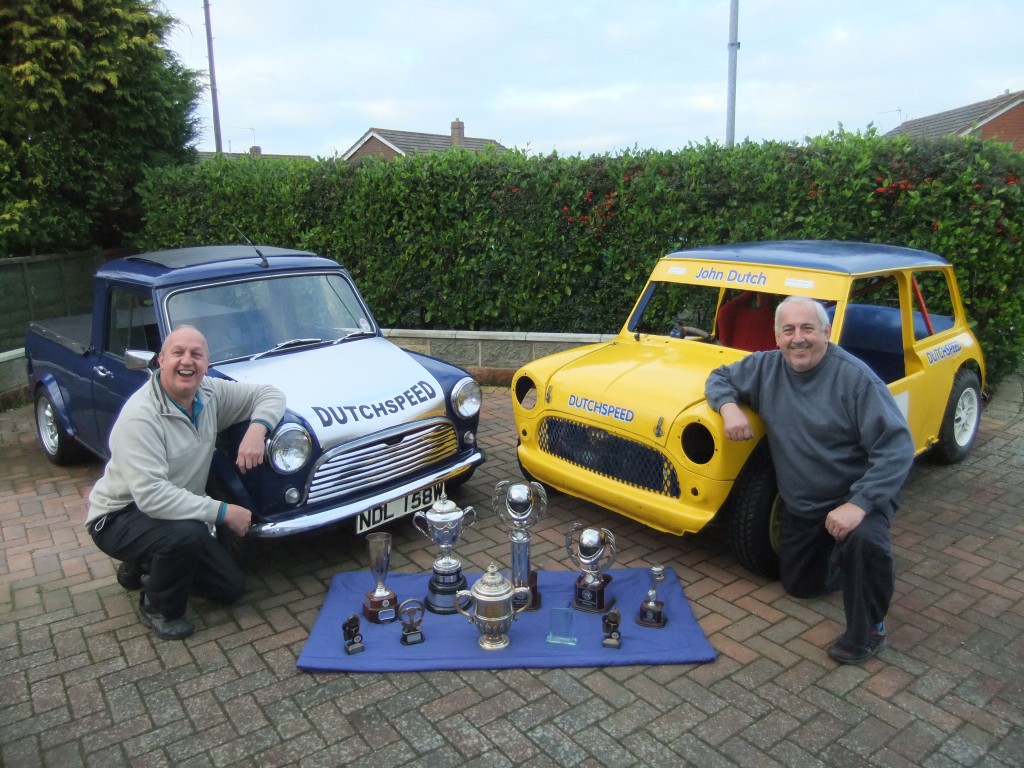 The IOW Car Club held their club championship over fifteen rounds this year. Eight of them being (SS) SEALED SURFACE and seven being (USS) UNSEALED SURFACE events. The best five results from each of the (SS) and the (USS) championships would count towards the overall club championship title.
Also the drivers best five results from the (SS) rounds would decide the (SS) championship title and likewise the best five results from the (USS) would decide the (USS) championship title.
John and Dave Dutch who saw fierce competition in 2012 to win the titles for the first time, was now put under increased competition in 2013 by many of last years drivers and some new members upping their game, which meant John and Dave had to push hard from round one and push hard they did.
 However John and Dave did not have it all their own way as Ryan Munt was to take 5 event wins out of the 7 rounds on the USS event to take the USS title from John which he won in 2012.
Also Andy Williams, Toby Allen, Dan Morgan and Darren Taylor all had their eyes on the trophies this year so was also pushing hard from round 1, Resulting in the competition being intense through out the year and the titles being all decided in the last round of the SS and USS championships.
OVERALL CLUB CHAMPION
1st  John Dutch  477 points
2nd  Dan Morgan  469 points
3rd  Andy Williams  447 points
OVERALL (SS) CHAMPION
1st Dave Dutch  250 points
2nd Toby Allen  248 points
3rd John Dutch  237 points
OVERALL (USS) CHAMPION
1st Ryan Munt  250 points
2nd Darren Taylor  241 points
3rd John Dutch  240 points
CLASS CHAMPIONSHIP  (SS)                         CLASS CHAMPIONSHIP  (USS)
              CLASS 1                                                                      CLASS 1
1st  Darren Cole  150 points                                               No entries this year
2nd  Tim Thompson  50 points
CLASS 2                                                                       CLASS 2
1st  Dean Long  249 points                                              1st  Dean Long  250 points
2nd  Daniel Kozakewycz  249 points                               2nd  Daryl Turner  195 points
3rd  Daryl Turner  242 points                                           3rd  Tony Long  193 points
CLASS 3                                                                    CLASS 3
1st  Dave Dutch  250 points                                        1st  Wayne Hole  250 points
2nd  David Goodwin  245 points                                    2nd  Steve Brett  243 points
3rd  Chris Greenen  243 points                                 3rd  Kevin Richardson  242 points
CLASS 4                                                                    CLASS 4
1st  Toby Allen  250 points                                          1st  Ryan Munt  250 points
2nd  Neil Glasbey  244 points                                       2nd  Dan Morgan  247 points
3rd  Ricky Sheppard  234 points                                   3rd  Brian Robbins  238 points
CLASS 5                                                                     CLASS 5
1st  John Dutch  248 points                                             1st  John Dutch  248 points
2nd  Dan Morgan  245 points                                          2nd  Darren Taylor  247 points
3rd  Andy Williams  243 points                                       3rd Andy Williams  243 points
BEST of the Lady Drivers
1st  Vicky Cox  346 points
2nd  Marion Saunders  272 points
3rd  Linda Burt  267 points
4th  Jill Williams  253 points
5th  Jemma Western  226 points
Write-up and picture by John Dutch