DAVE DUTCH TAKES HIS FOURTH OVERALL WIN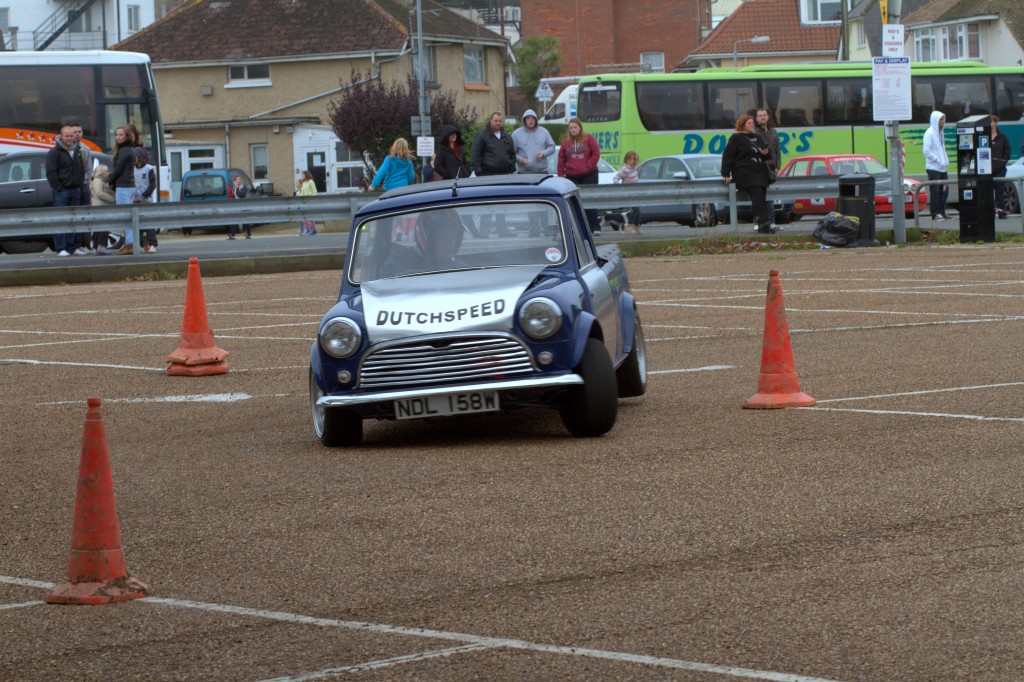 A long awaited return to an old venue for the IOW Car Club. So there was much excitement for the drivers as new venues are in short supply these days, unlike the rain which was the forecast for the day. Luckily it stayed away in the morning so this meant that once again the drivers were trying to get the best times they could in the early runs because once the rain arrived the run times were not going to get any quicker.
RUN 1 .. First to set the pace was John Dutch in his mini with a time of  59.48 sec, closely followed by Dave Dutch on a 59.93 sec, then Andy Williams on 61.21 sec, Chris Greenen on 62.21 sec , Daniel Kozakewycz on 63.15 sec , Toby Allen on 63.71 sec .
RUN 2 ..  Saw many more drivers picking up the pace and as a result the leader boards was changing. This time Dave Dutch put in a time of 57.89 sec and then Dave Goodwin on a 59.33 sec , followed by Chris Greenen on a 60.03 sec , then Andy Greenen on 61.67 sec , Ricky Sheppard on 61.92 sec , Vicky Cox on 62.13 sec .
RUN 3 .. Once again saw Dave Dutch setting a new pace of 55.98 sec for all others to follow, John Dutch gave chase with a 57.89 sec , followed by Dave Goodwin on 58.41 sec , Toby Allen on 58.93 sec , Andy Greenen on 59.71 sec , Dan Morgan on 59.88 sec ..
RUN 4 .. Saw Dave Dutch set a new FTD time of 55.27 sec, hot on his heels was Toby Allen on a 56.75 sec then Dave Goodwin on 57.34 sec , John Dutch on 58.55 sec , Dean Long on 58.83 sec and finally an outstanding drive by Kevin Richardson with a time of  59.24 sec , to give him his best overall position of the season so far..
RUN 5 .. Saw heavy rain arrive with strong winds , resulting in the track flooded and  track markers and timing equipment blown over leading to the top ten on the leader board calling that it for the day knowing that there was little chance their position would change..
Congratulations to Dave on a great drive and his Fourth Overall win
of the 2013 Season
OVERALL POSITION
1st  Dave Dutch on 55.27 sec
2nd  Toby Allen on 56.75 sec
3rd  Dave Goodwin on 57.34 sec
4th John Dutch on 57.89 sec
5th  Dean Long on 58.83 sec
6th Kevin Richardson on 59.24 sec
Fastest LADIES of the Day
1st Vicky Cox
2nd  Linda Burt
3rd  Jill Williams
4th  Linda Birt
5th  Jemma Western
class 1
No entries this time
class  2
1st  Dean Long
2nd  Daniel Kozakewycz
3rd  Daryl Turner
4th  Tony Long
class 3
1st  Dave Dutch
2nd  Dave Goodwin
3rd  Kevin Richardson
4th  Chris Greenen
5th  Andy Greenen
6th  Steve Brett
class 4
1st  Toby Allen
2nd  Steve Stotesbury
3rd  James Robbins
4th  Ricky Sheppard
5th  Vicky Cox
6th  Mike Hughes
class 5
1st  John Dutch
2nd  Dan Morgan
3rd  Chris Wilson
4th  Andy Williams
5th  Jill Williams
Next meeting is round 14 (SS) and will be at BAE car park on Saturday the 9th November and round 15 (SS) on Sunday the 10th November at IOW college. HEALEY  WEEKEND..
Write-up by John Dutch …   Picture by Allan Marsh