07-07-2013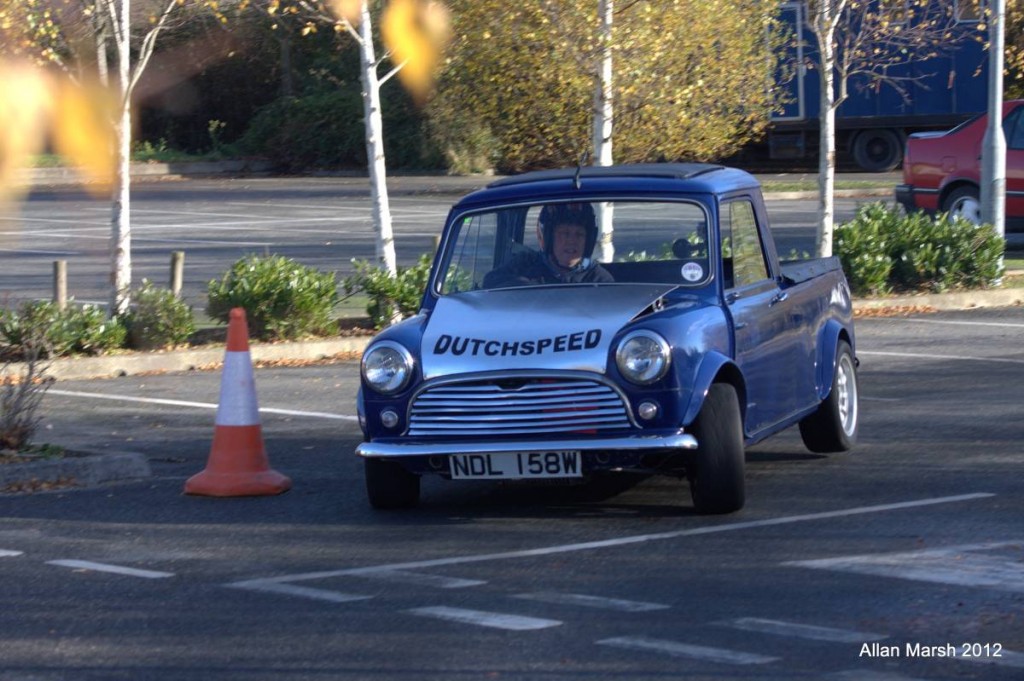 The latest round of the Isle of Wight Car Club championship was held last Sunday at the BAE Systems car park. It was a blistering hot sunny day but not as hot as the drivers championship was getting. The competition getting closer and closer on times to where the difference in finishing position could be down to hundreds of a second…
RUN 1 .. First to set the pace was John Dutch in his mini with a time of  56.29 sec, closely followed by Will Thomas on a 57.23 sec, then Chris Greenen on 57.66 sec, then Andy Greenen on 58.58 sec , Mike Hughes on 59.52 sec , Wayne Hole on 59.60 sec .
RUN 2 ..  Saw many more drivers picking up the pace and as a result the leader boards was changing. This time Dave Goodwin put in a time of 53.89 sec and then Dan Morgan only 5 100th of a seconds behind him on a 53.94 sec , then Toby Allen on 56.53 sec , then Chris Greenen on 56.81 sec , Mike Hughes on 57.29 sec , Dereck Thomas on 57.38 sec .
RUN 3 .. saw Toby Allen setting a new pace of 53.04 sec for all others to follow, Dave Goodwin gave chase with a 53.86 sec then Chris Greenen on 54.35 sec , Andy Williams on 54.48 sec , Adam Greenen on 54.79 sec , John Dutch on 55.15 sec ..
RUN 4 .. Saw Dave Dutch finally set a competitive time of 53.13 sec, after suffering with fuel pressure problems for his first three runs. Hot on his heels was Toby Allen on a 53.20 sec then Dave Goodwin on 53.29 sec , John Dutch on 53.33 sec , Dan Morgan on 53.50 sec , Chris Greenen on 53.89 sec ..
RUN 5 .. Once again saw Dave Dutch set a target time of 52.48 sec for the others to reach, Andy Williams got close on a 52.64 sec with John Dutch hard on their heels with a 52.91 sec , then Dan Morgan on 53.42 sec , Neil Glasbey on 55.33 sec , Andrew Foster on 55.73 sec .
RUN 6 .. Saw the top three drivers Dave Dutch, Andy Willliams and John Dutch unable to improve on there times but Dave Goodwin did with a 52.96 sec and also Toby Allen on 52.98 sec and then Chris Wilson on a 53.75 sec ..
It was a very close competition for all the top drivers. But Dave Dutch managed a super time on his 5th run that was enough to give him his second win of the 2013 season.
OVERALL POSITION
1st  Dave Dutch on 52.48 sec
2nd  Andy Williams on 52.64 sec
3rd  John Dutch on 52.91 sec
4th Dave Goodwin on 52.96 sec
5th  Toby Allen on 52.98 sec
6th Dan Morgan on 53.42 sec
 Fastest LADIES of the Day
1st Jill Williams
2nd  Linda Burt
3rd  Jemma Western
4th  Marion Saunders
5th  Elanor Watson
6th Anna Weaver
class 1
1st  Tim Thompson in his ELECTRIC Renault car
class  2
1st  Dean Long
2nd  Daniel Kozakewycz
3rd  Daryl Turner
4th  Tom Silvester
5th  Brian Robbins
6th Tony Long
class 3
1st  Dave Dutch
2nd  Dave Goodwin
3rd  Chris Greenen
4th  Adam Greenen
5th  Andy Greenen
6th  Wayne Hole
class 4
1st  Toby Allen
2nd  Neil Glasbey
3rd  Andrew Foster
4th  Steve Glasbey
5th  Dave Bizzill
class 5
1st  Andy Williams
2nd  John Dutch
3rd  Dan Morgan
4th  Chris Wilson
5th  Steve Brett
Next meeting is a (USS) and weather permitting will be at Knighton Sand Pit on the 21st of July ..
Write-up by John Dutch …   Picture by Allan Marsh