Saturday 22nd December is the date to pencil in your diary, for the only party worth attending this festive season.
Commencing with drinks in the bar from 6.30pm, a lavish 4 Course Festive Menu
has been arranged, with sit down at 7.30pm in the Summerhill Restaurant.  The evening doesn't end their though – there will be entertainment from The Tony Martin Experience, with Bar open until 1am.
Prices
The cost for the evening, including entertainment and party favours is just £25 per person, and should you wish to stay overnight and enjoy a relaxing Full English Breakfast the next morning (served until 10.30am), the cost is just £25 per person based on 2 sharing a double or twin room.
How to Book
Simply call the hotel on 01983 400 500 to reserve your place, or alternatively text Steve your name and number of people attending on 07717 844767.  Payment can be made by Friday 14th December.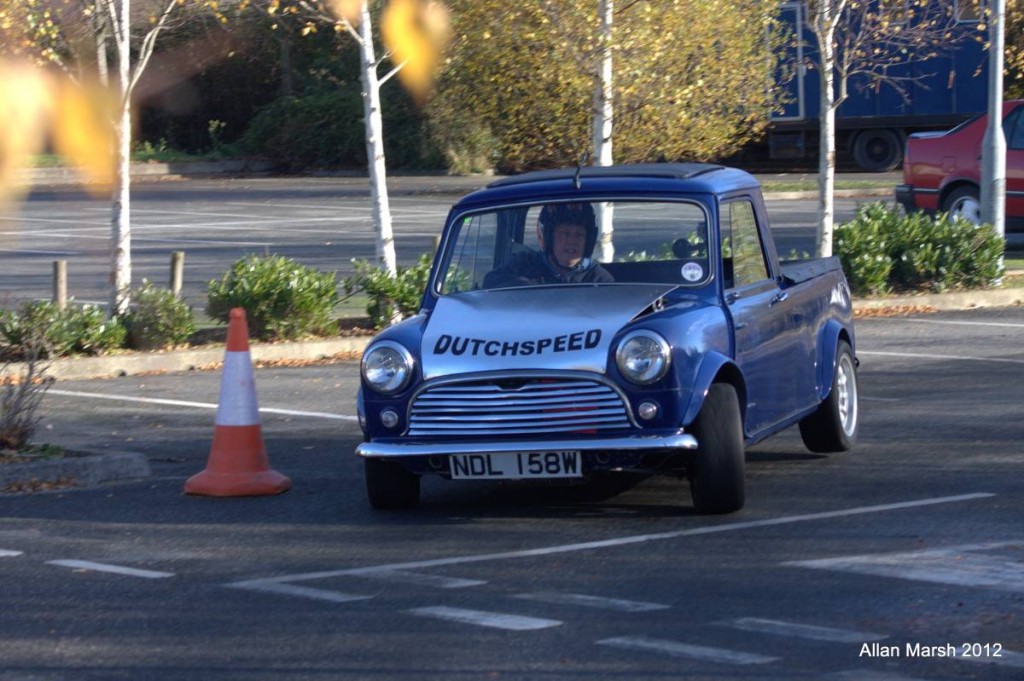 DAVE DUTCH comes out on top
To become the 2012 Isle of Wight car club (SS) Champion
 Rounds 11 and 12 (SS) on the 10& 11-11-2012 
The final two rounds of the I O W Car Club Sealed Surface championship were held at BAE on Saturday and IW College on the Sunday. It turned out to be a titanic battle over the weekend to decide all class titles and the overall sealed surface title. It was to be an on going battle between Dave Dutch,  Dave Goodwin, Toby Allen, Chris & Adam Greenen, Dave Bizzill and John Dutch for the fastest times, but from the start Dave Dutch in his DutchSpeed Modified Mini Pickup set the pace all weekend with increasingly quicker times to the point where he was 1.03 seconds ahead of the next driver Chris Greenen.
This was a massive amount as positions are normally decided by tenths of a second.
It looked like Dave was on a mission to let the others drivers know that the title was his and if they wanted it they would have to catch him first….Congratulations to Dave on a faultless drive all season.
The Final overall Championship Positions were as follows
1st Dave Dutch on 249 points
2nd Dave Goodwin on 240 points
3rd Toby Allen on 239 points
4th Chris Greenen on 231 points
5th Dave Bizzill on 229 points
6th John Dutch on 216 points
The Final overall Class Positions
Class 1
1st Wayne Hole on 50 points
2nd Jemma Western on 49 points
3rd Jess Greenen on 48 points
Class 2
1st Daryl Turner on 245 points
2nd Dean Long on 200 points
3rd Steve Adams on 94 points
3rd Dave Leppard on 94 points
Class 3
1st Dave Dutch on 250 points
2nd Dave Goodwin on 244 points
3rd Adam Greenen on 238 points
4th Chris Greenen on 193 points
5th Kevin Richardson on 138 points
Class 4
1stToby Allen on 249 points
2nd Dave Bizzill on 244 points
3rd Matt Griffin on 241 points
4th Wayne Hole on 213 points
5th Steve Stotesbury on 206 points
Class 5
1st John Dutch on 245 points
2nd Andy Williams on 244 points
3rd Darren Taylor on 242 points
4th Terry Steele on 231 points
5th Callum Steele on 222 points
Ladies Class
1st Vicky Cox on 153 points
2nd Linda Burt on 143 points
3rd Jemma Western on 110 points
4th  Marion Saunders on 39 points
More details can be found on www.iowcc.co.uk 
Pictures by Allan Marsh
Write up by John Dutch