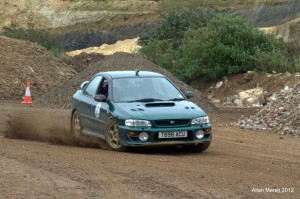 Once again the weather forecast earlier in the week was wet and windy for the coming weekends racing to be held by the Isle of Wight Car Club but this was not going to put off  The hardy few racers that turned up to sort out who was going to win the final round of the (unsealed surface) championship classes and the overall (unsealed surface) championship titles.. 
The surface was wet and slippery for the first three runs but the rain stayed away and as the sand and dirt came off the surface. The track slowly dried out, the grip levels came up and the run times came down…  
The first of the quickest run times were set by Ryan Munt in his Subaru 4WD, Neil Glasbey, Darren Taylor and John Dutch in his DutchSpeed prepared Mini, they all continued to trade fastest times throughout the day. They were closely followed by Steve Glass, Steve Brett and Terry Steele who were having a close battle of their own for 5th , 6th and 7th  overall.
The Final overall Round 10 positions were as follows
1st Ryan Munt on a 1:05:1
2nd Neil Glasbey on a :1:05:23
3rd Darren Taylor on a 1:06:03
4th John Dutch on a 1:07:11
5th Steve Glass on a 1:07:32
6th Steve Brett on a 1:08:16
7th Terry Steele on a 1:09:19
In Class 1
Wayne Hole took 1st place with a time of 1:09:33 followed by Jemma Western on a 1:21:97 
Class 2
No drivers competed in this class today
Class 3
Once again saw Steve Brett win this class in his Mini with a time of 1:08:16  followed by Marion Saunders in a time of 1:15:76
Class 4
This class was hotly contested with Ryan Munt coming out on top with a time of 1:05:10 followed by Neil Glasbey on a time of 1:05:23 then Steve Glass on a 1:07:32, Toby Allen on 1:09:80 , Matt Price on 1:11:19 , Paul Willis on 1:12:12 .
Class 5
Another hotly contested class with Darren Taylor and John Dutch who always seem to be trading fastest times for that 1st and 2nd places in class. This time Darren came out on top with a time of 1:06:03 and John 2nd on a time of 1:07:11 . In 3rd place was Terry Steele with a 1:09:19 and followed by Andy Lee on a 1:17:70 ..
Ladies Class
Normally 6 or more ladies contest this class (BUT WE NEED MORE) to come racing with us.
In 1st spot was Vicky Cox with a time of 1:12:69 and then Linda Burt on 1:14:38, Marion Saunders on 1:15:76  followed by a New Lady driver Sue Mitchell on 1:18:45 who drove very well for her first time and finally Jemma Western on a 1:21:97.
Congratulations to Ryan on a great drive and his win
More details can be found on www.iowcc.co.uk  Including the next and final rounds of the sealed surface championship to be held at BAE Systems and IOW College car parks were around 30 members of the Austin Healey club from the mainland will be coming to race with us on the 10th and 11th of November.
Pictures by Allan Marsh      Write-up by  John Dutch