Richard, Kozy, Marty and Myself went up to Aldershot Yesterday, to take part in the Dimanche Sprint Held at Rushmoor Arena.
What a hoot of a day.
Marty and Myself razzed off the 6am from Fishbourne and up the A3 both topless, perfect hangover cure, it was in fact a bloody lovely blat.
We arrived at the arena at what must have been around 7:25, first thoughts were wow I can't believe how many people are here already! Parked up fitted race numbers and timing strut. Proceeded to get noise tested, very laxxed and the noise meter measured my car 14db's less than Brands did!
Scrutineering next! About 15 mins to wait for this, while the 2 scruitineers work their way through the 75 cars! Again very laxxed so of I trot to sign on. Its 8:45 now so not enough time to walk to course unfortunately, safety briefing is indeed very brief and Jolly, I feel all stood around all know the score and little needs to be said.
9am and Car #1 is off, it soon becomes apparent they can churn the best part of 55 cars out an hour, Being #23 I get suited and saddle up.
As I roll up to the line which is on a slight downward gradient I'm pleased there are 2 chaps who can hold the car steady, I look around and Instantly note my school boy error, I've not had time to walk the course, and I'd not even glanced at the view of sight from the start line – Can't see the turn in point, let alone the apex of the first turn.
Oh well the Light goes green so I up anchor and steam off, 1st doesn't last very long so into 2nd where I Point for what I hope to be the Apex, Obviously its not, it's actually a good 8ft further on but im having to turn out now oh well!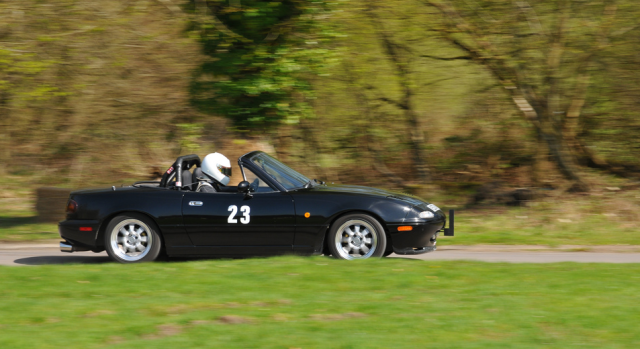 By 11:30 everyone has done their first 2 practise runs, I've come down from 61.57 to 59.46. We then go to do our first "timed" run.
I get the first turn pretty nailed and it all feels good, untill the 3rd turn – left hander, I find myself too wide on the exit and can't get on the power soon enough, car bogs down. I do however take the same Line Richard used on the final turn cutting the corner a touch and holding probably 5mph more through it.
I'm quicker but only a little, 59.13 now.
4th Run; 57.99 quite happy it all felt good, although I know it's the 3rd turn that's letting me down.
5th Run 57.80 Meh Perplexed now I don't know what Else I can do really, Problem is My cars exiting the 3rd turn at around 25/30mph, but Ive not got power in 2nd gear untill 40ish. Blow It I'll give 1st Gear a try!
Good Choice, It feels great going round and I'm very happy my Fastest Time – 56.59, wishing I'd tried that out earlier in the day as I now leave feeling a high 55. could be do-able. Think I came round 5th in class (16ish).
To Summarise, a really fun Day, as said a little more serious than our normal SS event, but relaxed enough to not be stressed out etc.
Something I'll certainly be doing more of!
Thankyou very much to everyone who lended me thier kit and for everyone being such great company today! – I can't recommend going to one of these enough!
My First Run
My Last Run