35 drivers entered the Isle of Wight Car Club 3rd round and the second sealed surface event of 2016, held at BAE Systems in Northwood.
This venue is a favourite among members and spectators alike. This huge open area has plenty of run off, which allows drivers to push their cars and driving abilities to the limit and beyond in a safe environment. Spectacular drifting and smoking tyres are the order of the day.
Drivers are required to memorize a simple course set out using traffic cones. Each driver has six attempts to produce their perfect run, however, there are no natural features at this venue, so many drivers use their first run as a sighting lap to help memorize the course.
They then take it in turn to drive the course and better their time. Touching a cone incurs a time penalty, so in this case, points don't mean prizes.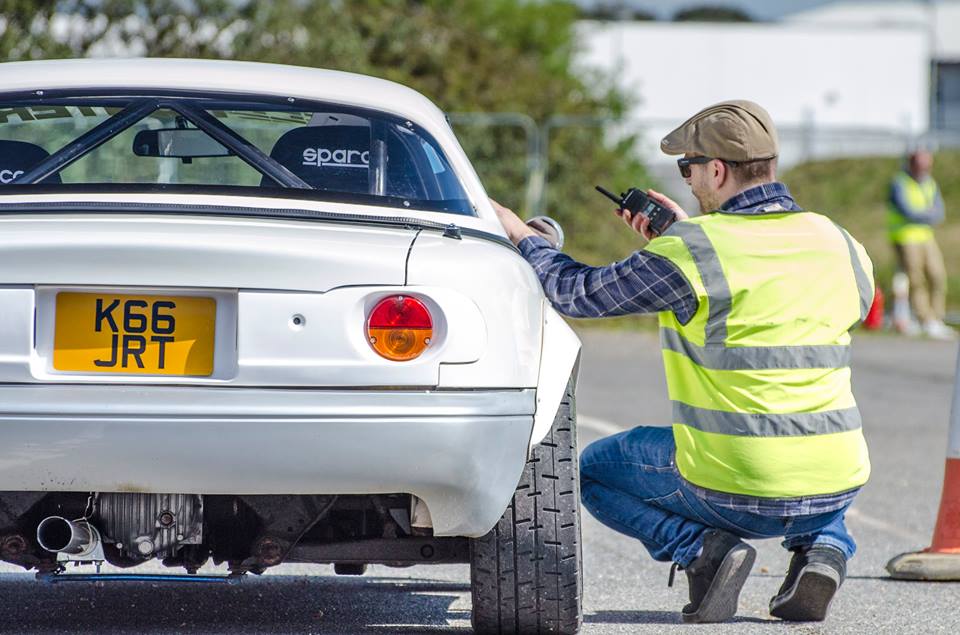 There was a fantastic turn out of lady drivers at this event. It was great to see new member Leanne Arnold and the return of Zoe Henry who was over 5 seconds faster than Mark Henry in their shared MX5. Marion Brett and Sue Mitchell are both experienced drivers at the club but had no answer for the domination of Vicky Cox in her Peugeot 205. With 2 sealed surface event wins in a row, Vicky has her sights firmly fixed on retaking the ladies' trophy at the end of the year.
During round 1 Ryan Munt threw down the gauntlet with a devastating time of 47:79 seconds, all other drivers were posting times of 50 seconds or more, all except Dan Morgan who retorted with a time of 48:87. Ricky Sheppard was the 3rd fastest driver and this is where he stayed for the rest of the day finishing on the 3rd step of the podium.
Dan Morgan struggled to improve his times as the day progressed and eventually Steve Wells stole second place from him in round 3 and refused to allow any other driver to stand on the second step of the podium.
During round 3 Ryan Munt's car caught fire. The bad news was that his car had to be retired but the good news was his 2nd run of the day was so fast that it was unbeaten by the rest of the field and was the overall fastest time of the day, allowing him to remain on the top step of the podium.
Does anyone have what it takes to stop Ryan from winning 2 championships in a row? This man is on fire……..literally  🙂