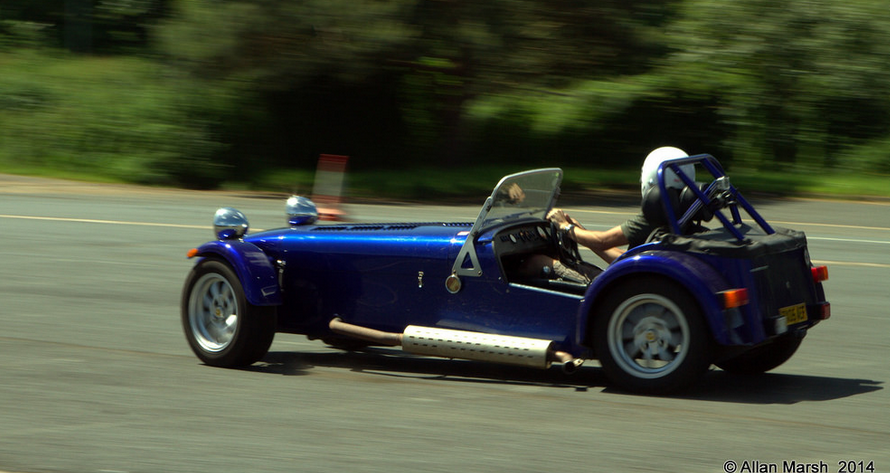 Round four of the IOWCC Auto-Test championship saw us at St George's football club and as has been the way when we have been on tarmac, the heavens opened and open they did. With drivers not only wringing out performance from there chosen vehicle they where wringing out their overalls and the first runs of the day saw the iconic Mini of Dave Goodwin being chased hard by the shear power of Russell Hectors Impreza.
However with the track now being bathed by sunshine and drying fast the rest of the field came chasing hard and Dan Morgan started to assert his dominance on run two, however bragging rights where withheld from this run as both Dan and Kevin Richardson both managing to set identical times to the hundredth of a second!
By the third runs Dan was home and dry and managed to set a time some two second ahead of his closest rival. But the rest of the field where trading tenths of a second with second and third places constantly changing hands with some seven people vying for the podium.
Run four the drivers were starting to attack hard with the whole field of 23 drivers being covered by 8.2 seconds which included Dan's lead of 1.3 seconds. Which meant that it was anyone's guess as to who would be accompanying Dan on the podium?
Run Five saw all the drivers trying to find some big gains which meant that risks where being taken and some ten drivers either accrued penalties or failed the test and even the leader managed not to finish, was the pressure of an eroding lead getting to Dan??
Of course not, normal service was resumed on run six with Dan Morgan being the only driver to break into the sub 40 second bracket setting a time of 39:73 and taking the overall win. So the only question to answer now is who will be the best of the rest? With the Mini drivers looking set to mop up along comes Toby Allen, whom most of the day had been arguing with the foot of the table, to steal second place by posting a time some five seconds faster than his previous time. Third place went to Kevin Richardson.
The next event is Sunday 22nd at Atherfield Farm (PO38 2LG) from 10 am, For more info see IOWCC.CO.UK