Drivers were greeted to near perfect conditions on Sunday 22nd of June for the fifth round of the Isle of Wight Car Club Championship, and the second unsealed surface event, held at Atherfield Farm. The Farm played host to an open, varied and technical layout which included several hairpins.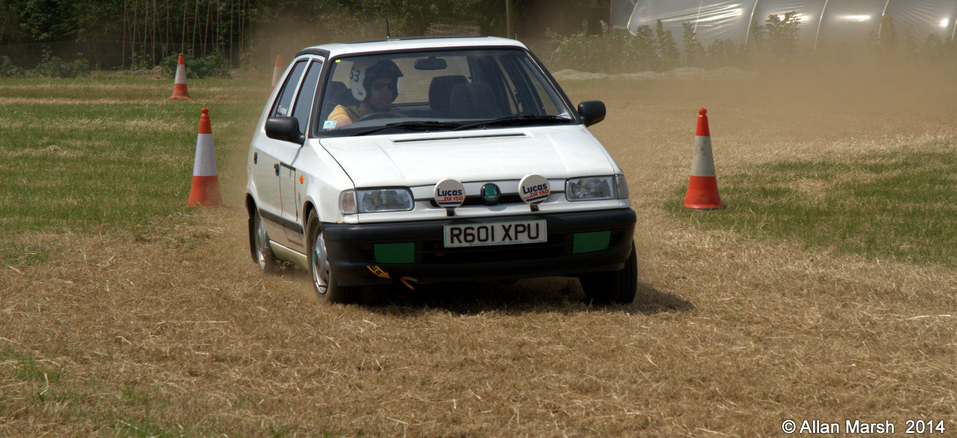 K Richardson in his C1 Skoda
The early runs were plagued by 'wrong tests', with many of the drivers knocking over cones or not taking the correct route on their first attempt. Steve Brett looked to be in the groove immediately, setting a 67 second time in his Mini, which put him on top of the time sheets after the first run. On his second run, Brett improved once more, setting a time of 64.46 seconds. However, it was not long before the four-wheel drive contenders inevitably took control on the off-road layout, with James Robbins achieving a 62.87 in his Subaru.
However, on his third run, Steve Brett was on the ragged edge, pushing to get every last tenth out of his little blue Mini. However, it was soon evident that he was pushing slightly too hard, as he tipped his car going through one of the hairpins, coming to a halt upside down. Marshals and fellow drivers ran over to help, and soon righted the car. Steve was unharmed, and assisted in pushing his Mini back to the paddock.
James Robbins improved once again on his third run, setting a time of 61.86 seconds. Toby Allen also looked promising in his Subaru, setting a time which could have taken the lead. Unfortunately, he over pushed, and missed the 'stop box' area at the finish line, meaning that he would be penalised and lose the time. On the fourth run, Toby set a time of 60.58, and this time it would go without penalty. Matthew Price, who was sharing the Car with Toby, set a time of 61.33, which would then be beaten by just one hundredth of a second, courtesy of James Robbins.
Matthew improved once more on his fifth run, setting a time of 60.50, which put him to the top of the timing sheets. Toby had set yet another quick time, but caught another penalty as he sent a cone flying during the run. However, it would all come together on the sixth run, with a time of 60.47, which was just enough to secure victory overall and in Class Four. Matthew Price remained second, while Ryan Munt moved up to third on his last run, at the expense of James Robbins, with whom he was sharing the Group N Impreza. Dan Morgan was fifth in his VW Golf, while Steve Brett, who made it back out onto the course and proceeded to drive even quicker, took sixth overall in the Mini, as well as Class Three honours.
The ever-sideways Dean Long took Class Two honours in his Mazda MX5, while Steve Glass took the Class One win in his Fiat Siecento.
The sixth round of the championship will be held on the 13th of July at BAE, while preparations are well underway for the IOWCC Motorsport Festival, which will be held on the 30th and 31st of August at the County Show Ground in aid of Kissypuppy.