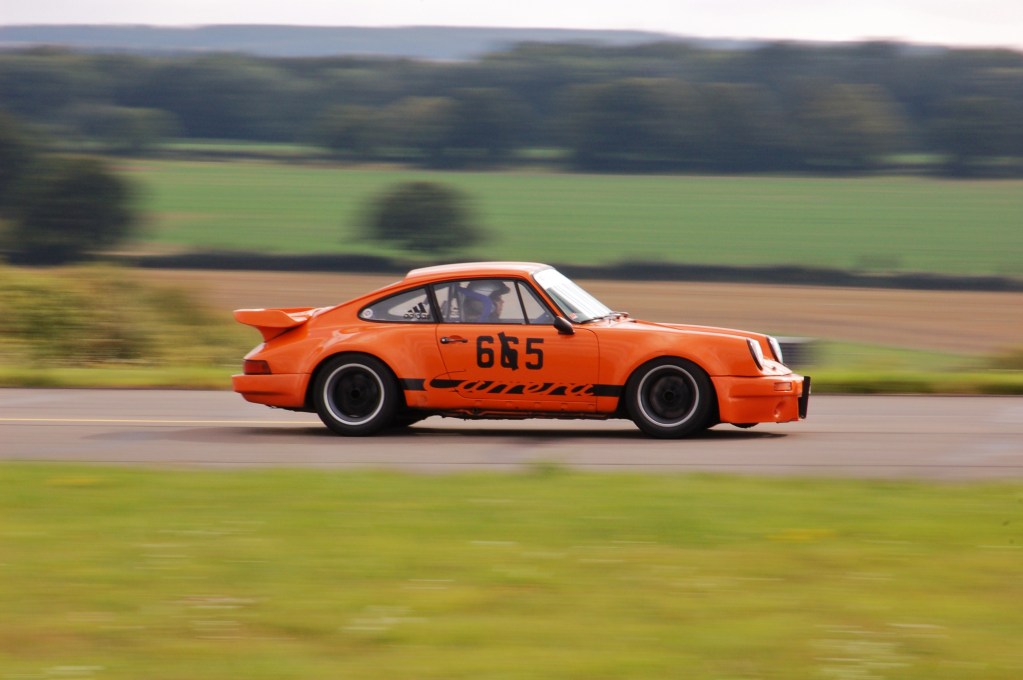 A very good day was had by all and despite a few excursions the IOW contingent, boasting 14 competitors at the event, returned relatively unscathed and having scooped 5 class trophies.
The course was far longer than the previous Dimanche sprint that IOWCC members entered earlier in the year and offered a far more challenging prospect. Even with a sighting run it was clear it was going to take some mastering.
Right from the off there were a set of short straights and tight turns and trying to find the right gear was going to be the key to the times falling. The course proceeded through a right hand turn which followed a long sweeping left, through a fast chicane and out of a right hander and onto a blind crest,  this turns right first before taking a sharp left that opens. Again perfecting this was going to be difficult. A hairpin turn was next leading onto a wide sweeping right hander, a sweeping left, a short burst of straight and then another tricky left-right-left with odd cambers and inclines. A couple of quick straights followed by a fairly straight forward chicane that you could really hustle the car through and then a sweeping left hander to finish.
The course was just over 1.9 miles in length.
Toby Allen and Richard Weaver were fast from the outset, with Martyn Cutler taking an 'expected' excursion into the grass on his first practice run. Returning from the first practice, everyone had big smiles on their faces.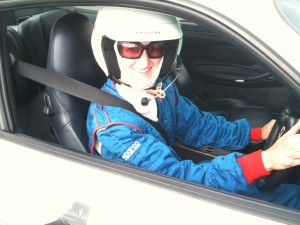 Richard Weaver in a Porsche 911 was upsetting Ferrari owners in his class as he was over a second ahead of them in practice, but lost out to them by the days end, although he took third in class. The Ferrari guys, Richard Prior and Andrew Holman at first thought it was Anna Weaver who was beating them as she was sharing the car with husband Richard. Sadly she opted not to provide extra amusement and string them along! They were cracking chaps and offered some much needed spice, to what would have otherwise been a dull class, due to the 3 way fight that ensued.
Will and Derek Thomas were as usual quick in their Porsche and took first and second in their class respectively. Will finished an amazing 18th overall which considering the majority of the first 15 finishers positions were occupied by the single seaters, meant that of the production and modified production vehicles, his finish was exceptionally good.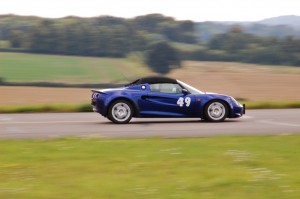 Russell Thomson was getting to grips with the Lotus Elise, which he had re-bushed before the event and lack of a geometry set up was providing him with a slightly twitchy driving experience. He nailed his final run of the day however and shaved 3 seconds off his best previous time. Martyn Cutler was keeping Russell honest in his similar machine, but lost out to Russ in the final run.
The Greenen's having recently acquired a Honda Civic were causing a stir with Andy and Chris driving it hard. Chris came away with 2ndin class as a result of his efforts.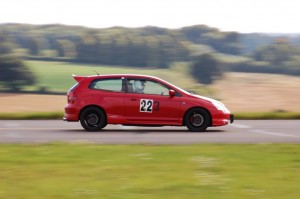 Steve Stotesbury was his usual exuberant self thrashing his poor Fiesta to within an inch of his life and in true Steve fashion he was quick AND managed to upset the Clerk of the Course!
Matthew 'Basra' Price was pushing his recently completed Stock Hatch prepared Citroen Saxo faster than a tin can should ever go. He had a spinning moment on his 2nd timed run. His shakedown for the car in its first competitive outing since the build proved successful.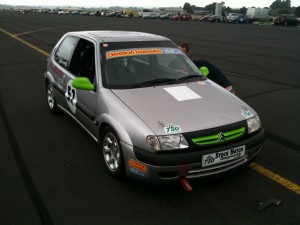 Matt said:
'Such an excellent and successful shakedown for the Saxo and it delivered without fault, despite a soggy front shock absorber. Over the moon. Such a pleasure (as always) to attend such events with the iowcc community.
A big thank you to Brian for being a massive helping hand and to everyone for making my day very enjoyable.'
Toby Allen battled the Greenen duo and drove very well in his Mazda.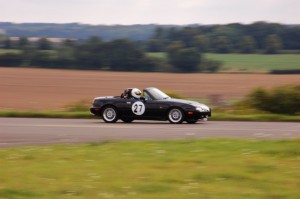 He commented ' Me and Chris had been swapping 2nd and 3rd pos in class all morning, so with about 17 people in class were both eager to take trophies home.
Went out on my 4th run and felt I really Had nailed it, checked my times and I had taken just over 4 sec's off I think, wicked! 
After my Final run I managed to take a further half second off putting me in the mid 1.47's, Sadly not quite enough as a MK2 escort had cropped up knocking me off 3rd by about 1/3rd of a second.
Regardless of all that I had an epic time, it was a real pleasure with the great company from the island and It seems we all had an equally great time.'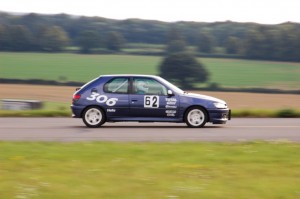 Darren Taylor was pushing his 306 to achieve some very respectable times, he also had an off and he thought he was lucky it stayed bottom side down. He pipped Matthew Price in their class with the pair finishing 0.6 seconds apart.
George Archer had a good run in his MK2 Escort and running as car number 3 he managed to remain cool despite the pressure of being one of the first cars to hit the course.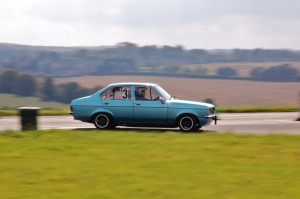 Overall Positions for IOWCC Members and fastest time recorded
18th – Will Thomas –  Porsche 911 – 01:36.6
24th – Derek Thomas – Porsche 911 – 01:39.9
30th – Richard Weaver – Porsche 911 – 01:41.4
41st – Russell Thomson  – Lotus Elise – 01:46.6
42nd – Chris Greenen – Honda Civic – 01:47.1
44th – Toby Allen – Mazda MX5 – 01:47.5
46th – Martyn Cutler – VX220 – 01:47.8
49th – Steven Wells – Locost – 01:48.5
55th – Andy Greenen – Honda Civic – 01:50.4
56th – Darren Taylor – Peugeot 306 – 01:50.6
59th – Matthew Price – Citroen Saxo – 01:51.2
71st – George Archer – Ford Escort Mk2 – 01:56.3
74th – Anna Weaver – Porsche 911 – 01:56.8
77th – Steve Stotesbury – Ford Fiesta – 01:57.6
Class Positions
 Class A02
4th George Archer
Class A03
7th Steve Stotesbury
Class A04
2nd Chris Greenen *
4th Toby Allen
6th Andy Greenen
Class A05
3rd Richard Weaver *
7th Anna Weaver
Class A08
3rd Russell Thomson *
4th Martyn Cutler
Class B10
5th Darren Taylor
6th Matthew Price
Class B11
1st Will Thomas *
2nd Derek Thomas *
Class C12
4th Steven Wells
* denotes trophy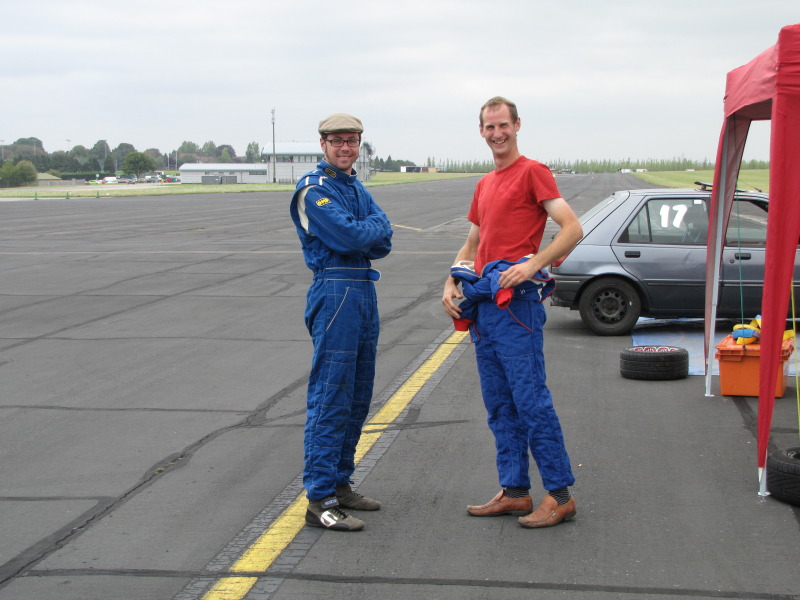 Contributed by Martin Cutler and Edited by Richard Weaver
Thanks to 'Fiddy' for the Photography