Easter Sunday saw over 40 competitors turn out for the premier event of the season at the IOW college. With unabated sunshine hats and sun cream were the order of the day. A slightly tighter course than usual meant competitors were going to have to be on their toes to get the course correct and avoid hitting any cones. Two complete 360 degree turns were laid out, a first for a while!
As suspected the usual suspects were topping the leader board from the outset, Andy Williams setting a time of 60.78 in a car engined special when most were struggling to get close to 68 seconds. Dave and John Dutch were out to show the others how it was done, dancing their little minis around the course and worrying the seasoned pros as their times were tumbling. Dave put in a 60.43 keeping Andy honest at the top. Of course Dave Goodwin, last years sealed surface champion was yet to set a time and when he did he jumped straight to the summit with a 60.36. The course was undoubtedly suited to the smaller cars, times were being made or lost in the 360s.
It was almost as if Mazda had brought their MX5 showroom to the competition, with 6 Mx5s on show there was a variety of success amongst the drivers. Dean Long, Darryl turner and Paul wills seemed to have an in house competition to see who could dance closest to the cones without hitting them, I think the final crown went to Dean for that one. Danny Grist, last seasons Rookie award winner was also in amongst the Mx5 drivers, he showed why he scooped last years award driving his little roadster with skill and a deftness usually seen from older heads.
There were no class 1 cars entered so in class 2 we had 6 cars. Dean Long scooped the fastest in class with a 64.50 closely followed by Pete Hughes driving a Clio 182 who recorded 64.77. It is nice to see the RWD and FWD cars competing so closely. Proof that the machinery is not as important as the person behind the wheel.
Class 3 was hotly contended as it is where most of the Minis hang out. Steve Brett had to retire early due to mechanical failure meaning two less drivers competing for the class honours. As reported earlier Dave Dutch and Dave Goodwin were topping the overall board so naturally they were also hotly contending the class as well. Chris Greenen was doing his best to keep them honest but Goodwin eventually ran away with a time of 58.27 just over one and a half seconds faster than Dave Dutch. The way the minis were taking the course they shall be hard to beat this season, Dave Goodwin has just installed a new engine and informed us it was not yet using all of its RPM available. Watch this space!
Class 4 is where the rest belong, the largest class of the club. Wayne Hole driving a Vauxhall powered Mk1 Escort was fast from the outset, adept at 360s using the natural oversteer happy nature of the car to power his way to a 62.63 Matt Price was driving a well prepped Saxo race car for the first time, hoping for reliability he not only got that but he was also rewarded for some very capable smooth driving with a time of 62.95. Andrew Leppard outclassed them all late in the day to prove his up and coming drivers award last year was not just a one off. Pushing the 205 Gti to a very credible time of 62.05 to take the class win, well done Andrew!
With only 3 drivers in class 5 Dan Morgan would have been hopeful he could have taken a class win. Driving a brand new seven inspired vehicle he was pitting himself against Steve Wells and Andy Williams. Dan had brought his own pit crew with him and after setting his car up he was struggling with the front end washing out, a few adjustments were made and he propelled himself up the leader board with a very respectable time of 61.27, Steve was very close behind with a 61.57 but Andy scooped the class with 58.32.
And so the day drew to a close, Dave Goodwin using only 5 of his 6 runs to take the overall win closely followed by Andy Williams and Dave Dutch into third. An extremely enjoyable first event of the season, hope to see you all at Knighton on June 5th.
Top 5 Finishers:-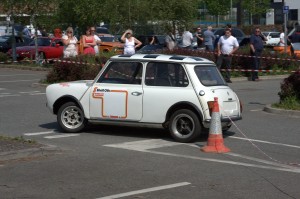 Dave Goodwin 58.27
Andy Williams 58.32
Dave Dutch 59.79
Dan Morgan 61.27
Steve Wells 61.57
Fastest lady driver of the day was taken by Vicky Cox driving a 205GTi and recording a time of 67.76
Photos courtesy of Allan Marsh