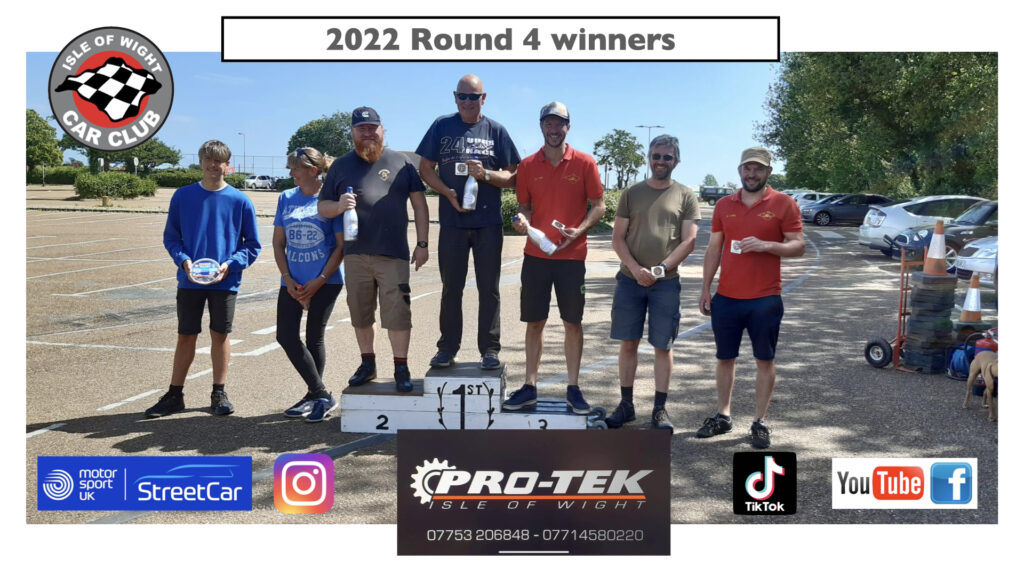 A new venue for most and a return to a classic for some, the Isle of Wight Car Club returned to the car park of Westridge in Ryde for round 4.
34 drivers competed on this short, tight yet exciting course weaving in and around cones, islands and even over a ramp.
Cars spanning all 5 classes with a diverse mix of drivers of all ages including our thriving youth championship. All but one entry was a street car proving that grass roots motorsport is alive and growing on the isle of wight thanks to the enthusiasm of the Isle of Wight Car Club and its members.
Class 1 is for unmodified cars under 1400cc. With 14 out of the 34 drivers competing in this class, it seems driving small standard cars to the limit is the future.
Gordon Bushell in his Smart Roadster was the fastest of the group and 8th place over all, Joel Gilby in his MGZR took the title of the fastest youth.
If you are under 18 years of age you can drive in an autotest from the age of 14 provided your car has a roof, back seats and no more than a 2 litre engine. An experienced competitor will sit in with you to offer help and advice – a great way to get experience with car control before you learn to drive on the road.
Class 2 is for unmodified cars over 1400cc and this class was dominated by MX5s, these small nimble rear wheel cars can be very competitive even in standard form. Gerald Wilby also competes in class 2, however, drives his lovely classic Healey. Driving one of these machines required forearms like Popeye because of the lack of power steering. Wrestling this amazing classic around our tight courses demands respect.
Fastest driver in class 2 was Wayne Hole who also finished on the podium in 3rd place overall.
Class 3 is for modified cars under 1400cc and it was great to see Dave Goodwin take the class win and stand on the second step of the podium driving in his classic mini.
Motorsport is one of the few sporting activities in which men and women can compete alongside each other on equal terms, and in recent years, the number of women involved in motorsport has increased. At this event there were 9 ladies competing and Cathy True in her Cooper S was not only the fastest lady of the day but also finished 2nd in class 4 and 7th place overall.
Dean Long wowed the many onlookers by drifting his modified MX5 to the class win and 4th place overall.
Andy Williams in his class 5 ex grass track special dominated the proceedings by placing a time on his first run of the day that the rest of the field could not match and he only bettered this time on run 6 allowing him to stand on the top step of the podium and the class 5 honours.
The next event is on The 24th of July and is an unsealed surface event on grass, this venue is super smooth and suitable for any street car, so if you fancy having a go at motorsport and sliding around on grass then head to our website for more information. www.iowcc.co.uk