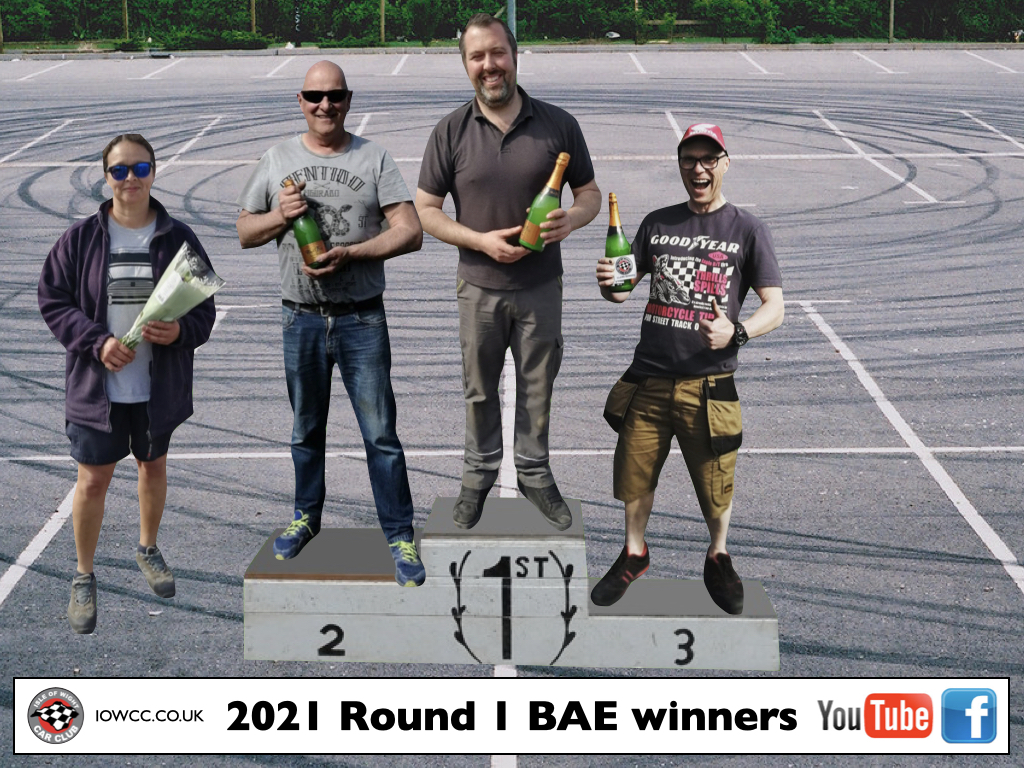 28 drivers competed in the first round of the Isle of Wight Car Club's forward only autotest held at BAE systems in Northwood.
The weather forecast on this spring day was sunny with no risk of rain.
This venue is a wide-open car carpark with lots of run off so drivers can push their cars and their abilities to the limit with little chance of damaging their pride and joy.
One good thing that has come from the Covid pandemic is that drivers have access to a map of the proposed course ahead of time so they can study the course and hit the ground running.
It soon became apparent that some had not completed their homework as many struggled resulting in wrong tests. As frustrating as this is for many, I encourage those who do struggle to stick with it as with practice remembering the course becomes easier, I promise.
During run 1 Ryan Munt posted a time of 59 seconds and for the rest of the event not a single driver managed to complete the course in under a minute.
Such was the supremacy of Ryan in his class 5 Locost, that by the close of the day he had increased the gap to second place by 4.39 seconds. Fresh out of retirement it seems Ryan is intent on dominating the 2021 season.
Andy Williams, our 2020 champion, stood on the 2nd step of the virtual podium and well deserved it was too as he had to not only balance helping organising the event and competing but also spent a good proportion of his time feeding the competitors from the burger van.
Finishing 14th place overall the fastest lady of the day was awarded to Louise Wren in her class 1 Puma.
Also driving the same car Shane Parry took the class 1 honours finishing 12th overall.
Class 2 went to Kevin Richardson finishing 3rd place overall in his MX5.
Only 0.5 of a second behind Dave Goodwin took his classic mini to 4th place overall and the fastest in class 3.
Jon Barrett in his Subaru Impreza finished 5th overall and bagging the title of the fastest class 4 car of the day.
We are also proud to announce that the Youth Championship has now started and Max Snudden driving a fantastic looking MGBGT is now our Youth Champion leader. Unfortunately Max could not stay until the end of the event so could not receive his prize.
The IOWCC are encouraging 14 to 17 year olds to join the club and compete in the new Youth Championship series.
A member can drive at one of our events as young as 14 years of age, as long as they have a passenger with a drivers licence who is experienced in autotesting.
The car must be a production touring car (i.e. with back seats and a roof) under 2000cc.
Members as young as 12 years old can be a passenger with an experienced driver with a current driving licence.
In addition all competitors and passengers must have a valid Motorsport UK RS clubman licence – this licence is free and can be applied for via the Motorsport UK website or at race control on the day.
Please note Under 18s cannot apply for their licence online as it requires a parental / guardian consent so will require you to print the form off and send it via post to Motorsport UK.
The next event will be at the Isle of Wight College on the 2nd of May. Head to the club website
www.iowcc.co.uk
to book your space now. Entries close at midnight on the 28th of April.