After a successful first outing at Cheverton Chalk Pit we were invited back to this amazing venue for round 6 and the 3rd unsealed surface event of 2018.
This fast and dusty chalk pit is a hit with competitors and now spectators thanks to the raised viewing platform in this natural amphitheater.
Only 14 drivers competed during this round but with the reduced number of competitors even the drivers at the back of the field are collecting decent points and we all know what points mean.
In class 1 new member Will Melon returned to have a go at his first unsealed event, however, this time he brought his mate Marcin Anszczak in his Nissan Micra. These two drove this little car with gusto and managed to finish 11th and 12th with Marcin taking the win in this class.
Tony and Dean Long returned, this time back in a class 2 MX5. Dean has always been fast in these little cars and his driving style is mesmerizing. However, he was obviously having too much fun drifting around the big piles of chalk as he incurred penalties in in his final 2 runs but despite this finished 1st in class and 4th overall.
A cheer went up first thing in the morning when Steve Brett drove into the pits. Steve has been absent for some time and it was great to see him thrash his classic Mini between the cones once more. Steve had no class battle to contend with as he was the only car in class 3 and finished 6th overall.
On the other hand, we had a skirmish in class 4 as 5 drives were fighting for class honors. In a mix of cars ranging from Steve Glass in his Toyota Corolla to James Bolan in his Peugeot and Wayne Hole in his Ford Focus who out performed much more powerful cars and achieved a PB by standing on the podium for the first time in 2nd place overall. Barry Richardson experienced a first at this event by driving a much more powerful car than he is used to thanks to Jo Moore letting him drive his Subaru Impreza. Jo has owned his Subaru for 10 months now and has obviously got to grips with it as he also hit a personal best and on his 5th run posted the fastest time of the day crowning him as the overall event winner.
Class 5 cars, however, struggled but Andy Williams was more than pleased to spray bubbly supplied by our sponsors Young Pluming from the 3rd step of the podium.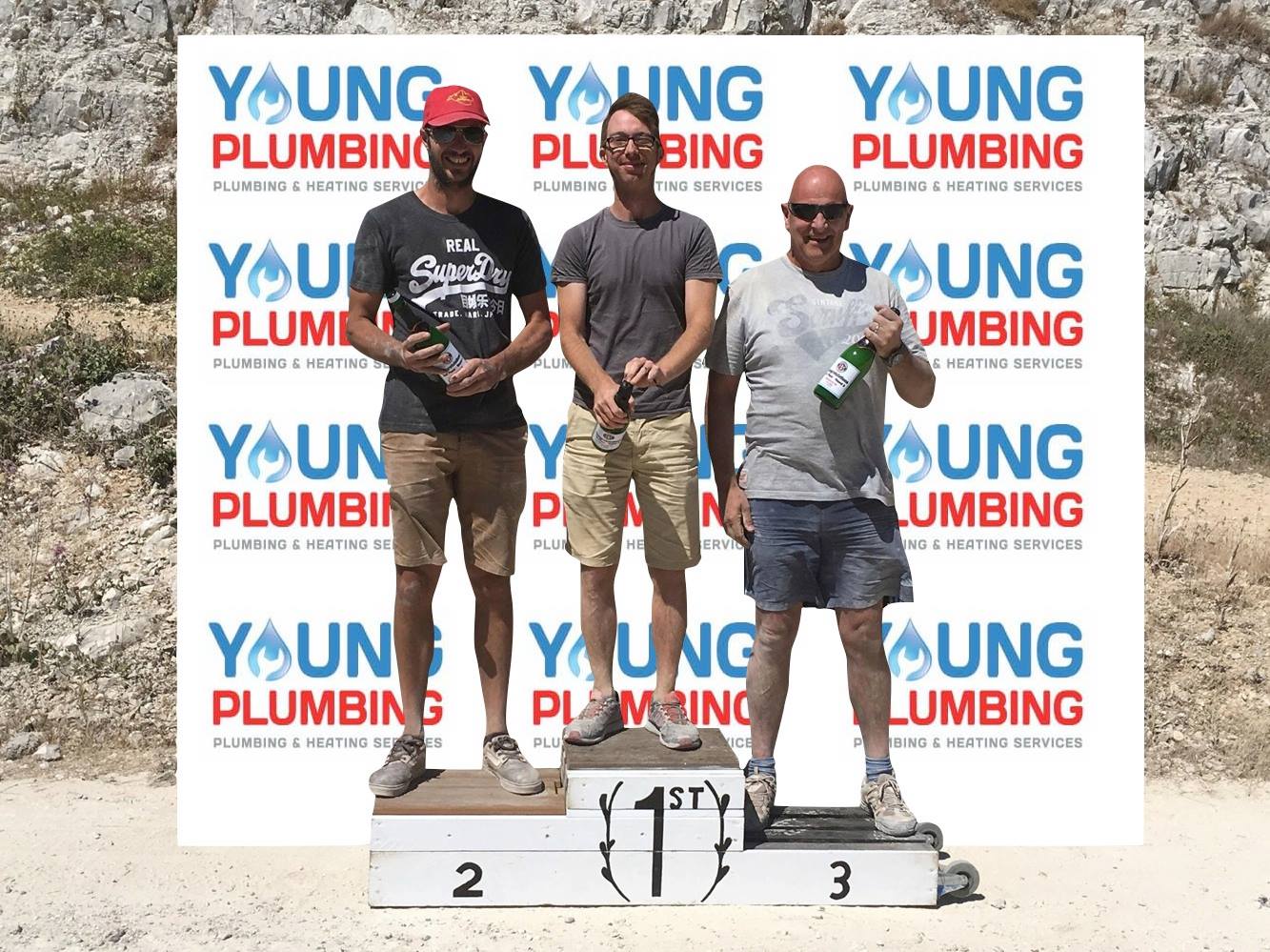 Not feeling one with the course and worried about damaging his special before the up and coming Autocross Chris Wilson sacrificed championship points by retiring midway through the event.
The USS championship is now wide open with Andy Williams leading Jo Moore by only 5 points.
The next unsealed event is on the 29th of July at Atherfield. This wide open flat grass field has to be ranked as the best venue on our calendar, suitable for road cars with road tyres, so if you have always fancied at unsealed event, don't miss out.